Vom Campingplatz in "Dongara" fuhren wir am Montagmorgen zirka 70 Kilometer nach "Geralton". Zuerst fuhren wir etwas durch ein Quartier, welcher wunderschön am Strand liegt und glotzten die Häuser an, im Übrigen seit geraumer Zeit ein heimliches Hobby von uns :-) Wir hielten kurz und begutachteten den Strand, leider war auch hier alles voller Seegras, hoffentlich zieht sich das nicht bis in den Norden!
Wir fuhren ins Stadtzentrum und gingen bei "Woolworth" einkaufen. In Australien darf Alkohol nur in lizenzierten "bottle shops" verkauft werden, diese Shops wiederum dürfen fast ausschliesslich alkoholische Getränke verkaufen. Zum Teil bekommt man einige wenige nicht-alkoholische Getränke und oder Chips. Das Prinzip funktioniert wie in der Schweiz mit der "Migros", neben fast jeder "Migros" steht ein "Denner" und in Australien steht neben fast jedem "Woolworth" ein "BWS" (BWS steht für Beer – Wine – Spirit) und neben jedem "Coles" gibt es einen "Liquorland". Den besten Namen hat jedoch das "thirsty camel". Alkohol ist wie bereits mehrfach erwähnt ziemlich teuer. Für ein Bier mit zirka 350ml bezahlt man durchschnittlich AUD 3.-. Wein ist im Vergleich dazu zahlbar, Spirituosen oder Mixtränke nahezu unzahlbar!
Rolf und Emma, die Schweizer Familie, welche wir vor wenigen Tagen auf dem Campingplatz kennengelernt hatten, gaben uns ihre Nummer, damit wir sie kontaktieren können, wenn wir in "Geralton" sind. Unser Anruf blieb unbeantwortet, somit entschieden wir uns, einige Strände in "Geralton" anzuschauen und dann weiter nördlich zu fahren. Auch die anderen Strände waren unspektakulär und übersehen von Seegras.
Wir hatten genug von "Australien" und entschieden uns das Land zu verlassen. Wir fuhren 120 Kilometer bis wir zu einer Verzweigung kamen, dort bogen wir ab und fuhren weitere 30 Kilometer bis wir das "Principality of Hutt River" erreichten.
Das "Fürstentum Hutt River" ist ein Scheinstaat innerhalb von Australien, welcher am 21. April 1970 mit einem Brief an den amtierenden Premierminister von Leonard George Caley gegründet wurde. Auslöser für die Selbstständigkeit war ein Streit über die staatliche Produktionsquote für Weizen auf seiner Farm. Er ernannte sich selbst zum Regenten "His Royal Highness Price Leonard of Hutt River" und erklärte sein Gehöft zur Hauptstadt.
Dort angekommen ging es nicht lange, bis wir Prince Leonard kennenlernten. Prince Leonard ist ein alter Mann, der viel zu erzählen hat, viel weiss und auf eine liebenswerte Art etwas verrückt ist. Er erklärte uns wo wir was besichtigen können. Wir besichtigten kurz die Kirche, welche mit blauem Glas aus Italien versehen ist. Das spezielle Glas sorgt dafür, dass es auch im Sommer schön kühl bleibt in der Kirche.
Etwas später trafen wir den Prinzen im Postoffice, Prince Leonard ist nämlich nicht nur der Prinz, sondern auch der Pöstler, Zollbeamte und hat vermutlich viele weitere Funktionen, welche ein Staat benötigt. Wir erfuhren, dass seine Frau Princess Shirley am 07. Juli dieses Jahres verstorben ist. Es ist noch zu jung, dass er darüber sprechen konnte und lenkte sofort wieder vom Thema ab. Im "Principality of Hutt River" gibt es eine eigene Währung, eigene Briefmarken, Postkarten und natürlich Stempel für den Pass. Prince Leonard zeigte uns alle versteckten Hologramme in unserem Pass, er kennt jedes Visa und zeigte uns die Eigenheiten.
| | |
| --- | --- |
Dasselbe machte er bei einer Gruppe Koreaner. Wir fragten ihn ob er alle Pässe so gut kennt, mindestens von 100 Nationen kann er die Eigenheiten aufzeigen! Danach wurde unser Pass gestempelt. Weiter erzählte er uns, dass er seit mehreren Jahrzeiten auf der Suche nach einer Quelle ist, welche schneller als das Licht ist und er versucht die Schwerkraft mit einer mathematischen Formell auszugleichen. Ach ja, und mit Hilfe einer Pyramide konnte er alle Planeten berechnen. Von Computern hält der 88 jährige Prinz im Übrigen nichts.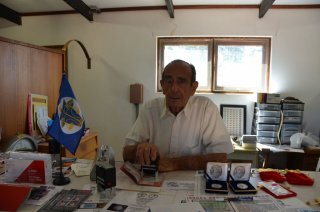 Nach einer Weile verliessen wir das Fürstentum wieder. Der Besuch war absolut lohnenswert und hat uns viel Spass gemacht.
Bilder: Principality of Hutt River