Um vom "Sequoia & Kings Canyon National Parks" zum "Valley of Fire State Park" zu kommen nahmen wir es gemütlich, denn uns erwarteten ca. 650km Fahrt. Von Tulare fuhren wir am Nachmittag nach Los Angeles. Hier blieben wir eine Nacht und fuhren dann weiter nach Las Vegas, diesmal hausten wir aber ausserhalb vom Strip in einem sehr günstigen und komfortablen vier Sterne Casino Hotel. In Las Vegas angekommen, braute sich ein Gewitter zusammen. Es regnete und blitzte aus allen Kübeln, es kühlte auf knappe 20 Grad ab. Da das Wetter für den kommenden Tag nicht gut vorausgesagt war, beschlossen wir noch eine Nacht länger im selben Hotel zu bleiben. Wir schliefen aus, fuhren zum Walmart um für die kommenden Tage einzukaufen und suchten einmal mehr einen Coiffeur auf. Zum ersten Mal auf unsere Reise, bekam auch ich die Haare geschnitten. Ein Coiffeursalon hier in den Staaten kann man nicht vergleichen mit denjenigen aus der Schweiz. Die Angestellten essen im Salon ihren Lunch, der Fernseher läuft, das Tischlein vor dem Spiegel ist mit Staubfänger belagert, die Wände mit Poster zugekleistert und auf ein Glass Wasser oder eine Zeitschrift wartet man vergebens. Die Angestellten waren jung, tätowiert und gepierct, was einen Hippen Eindruck machte. Meine Coiffeuse brauchte 1,5 Stunden um meine Spitzen zu schneiden! Ob der Schnitt perfekt ist? Nein, aber das ist auch nur halb so wild. :-)  Ich bezahlte dafür auch nur 30$. Emanuel war einmal mehr mit seinem Schnitt zufrieden, welcher gerade einmal eine Halbestunde benötigte, jedoch nur 5$ günstiger war.
Glücklicherweise war das Wetter für Samstag wieder schön vorausgesagt. Wir standen früh auf und fuhren etwa 1,5 Stunden bis zum "Valley of Fire". Da es einen State Park ist und die nicht in unserem National Park Jahrespass enthalten sind, mussten wir für den Eintritt 10$ bezahlen. Wie immer erhält man beim Eingang eine Parkkarte. Das System hier war ganz einfach: Fahren, halten, zwei Schritte laufen, Foto machen und weiter zum nächsten Punkt. Richtige Wanderungen gibt es in diesem Park nicht. Das Valley of Fire ist der älteste und grösste State Park von Nevada und für viele ein beliebtes Ausflugsziel von Las Vegas. Das Valley of Fire hat sich vor 150 Millionen Jahren aus grossen Wanderdünen geformt und besteht aus vielen roten Sandsteinen.  Zur unserer Enttäuschung wirkten sie aber nicht so feurig. Da hier einst Indianer lebten, findet man viele Petroglyphen in die Steine geritzt, deren Bedeutung bis heute unklar sind.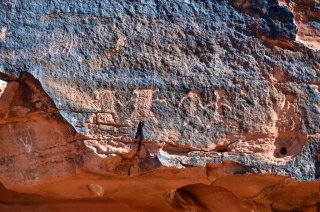 Zu unserem Entsetzen fanden wir ein Hakenkreuz zwischen den Petroglyphen, welches mit den vier Himmelsrichtungen und Freundschaft übersetzt wird. Nach knapp drei Stunden hatten wir den Park bereits abgefahren und alles besichtigt. Da wir ursprünglich geplant hatten auf dem lokalen Campground im Auto zu übernachten, wussten wir nicht so recht was wir mit der restlichen Zeit machen sollten, denn es war erst Mittag. Wir beschlossen spontan weiter zu fahren zum 362 Kilometer entfernte "Bryce Canyon National Park".
Bilder: Valley of Fire State Park