Als wir am Samstagabend in "Albany" ankamen, zogen bereits düstere Wolken auf uns es windete stark. In der Nacht begann es dann auch zu regnen und es wurde bitterkalte 3 Grad. Wir schliefen in Thermowäsche. Eigentlich hatten wir "Albany" nur als Zwischenstopp für die Nacht gewählt und wollten gleich am Sonntagmorgen weiterfahren. Da die Wetterprognose für den Sonntag jedoch Regen voraussagte, entschieden wir, auf am Montag kommende bessere Wetter zu warten. Am Sonntagmorgen regnete es zwar nicht, jedoch hatten wir eine Pütze um das Auto herum. Das Wetter war nicht schön und da das Zelt noch nass war, entschieden wir uns zu Fuss zu "Bunnings" (Vergleichbar mit OBI) zu gehen, um ein paar Kleinigkeiten für das Auto zu kaufen. Den Nachmittag verbrachten wir mit Waschen und die gekauften Teile im Kofferraum anzubringen. Nach den Kofferraumarbeiten bleibt bei künftigen Offroad-Fahrten alles am gewünschten Platz. Am späteren Nachmittag begann es wieder zu regnen und es wollte nicht mehr aufhören. Die Nacht war unangenehm kalt, windig und nass, da es noch immer an einigen Stellen im Zelt die Feuchtigkeit hineindrückt.
Am Montagmorgen waren wir wieder um 6:00 Uhr wach. Nach einem heftigen Windstoss standen wir gleich auf, da es den Hering  aus dem Boden gerissen hat, was bei dem Sumpf auch kein Wunder war! Der Regen hatte aufgehört. Wir assen etwas Frühstück und hofften, dass das Zelt etwas trocknen kann.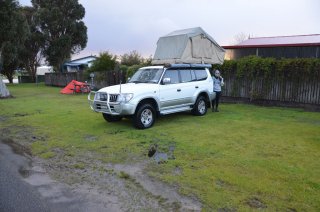 Doch daraus wurde nichts, da es plötzlich wieder zu regnen begann. Wir gaben auf und hatten die Nase gestrichen voll, von diesem kalten, nassen Wetter. Wir wollen in die Wärme!  Wir packten das nasse Zelt zusammen und fuhren los. So schnell wie möglich weg von hier, dachten wir. So haben wir uns das Campen definitiv nicht vorgestellt.
Kaum losgefahren, begann die Sonne zu drücken. Wir entschieden uns kurz an der Küste von "Albany" zu halten. Hier befanden sich die "Natural Bridge" und der "Gap", zwei von der Natur geformte Sehenswürdigkeiten. Die Wellen klatschten gegen die Felswände und die Gisch spritzte es in die Luft hinauf. Es spritzte so gewaltig, dass unsere Gesichter ganz salzig waren und wir sogar unser Auto, welches bestimmt 100 Meter entfernt parkiert war, waschen mussten.
Von "Albany" fuhren wir schliesslich 110 Kilometer bis zum "Valley of the Giants". Unterwegs fuhren wir wieder an vielen Feldern vorbei und fuhren durch ein paar Wälder. Vom "Valley of the Giants" hatten wir von vielen Leute Gutes gehört und wir waren gespannt, ob die riesen Bäume mit denjenigen vom "Seqouia Nationalpark" von den Vereinigten Staaten mithalten können.
"Valley of the Giants"  befinden sich im "Walpole-Nornalup National Park". Der Park ist bekannt für den "Karribaum" und den "Red Tingle" der sich dort befindet. Die Bäume sind vor allem wegen ihrer Grösse beeindruckend.
Im Park befindet sich ebenfalls der "Tree Top Walk", eine bis zu 40 Metern hohe Hängebrücke, die  durch die Baumkronen führt. Diese 500 Meter lange Brücke überquerten wir selbstverständlich. Es ging tatsächlich hoch hinauf und es war toll die Perspektive eines Baumes einzunehmen. Die Brücke schwankte und es rauschte zwischen den Blättern.
Zurück auf dem Boden liefen wir noch einen Trail, welcher zwischen den höchsten Bäumen und weiterem sehenswerten Naturspektakel hindurchführte. Die Bäume waren gross und dick, aber bei weitem nicht zu vergleichen mit den riesigen Bäumen des "Seqouia National Parks",
Der Trail war kurz und wir somit auch schnell durch. Zurück beim Eingang standen viele Menschen, wir sind wohl gerade noch so vor dem Ansturm durchgekommen, was für ein Glück!
Bilder: Valley of the Giants